Rich & Karen Ayers receive ICON Agent Award at eXp Realty
Posted by Rich Ayers on Tuesday, September 4, 2018 at 8:29 AM
By Rich Ayers / September 4, 2018
Comment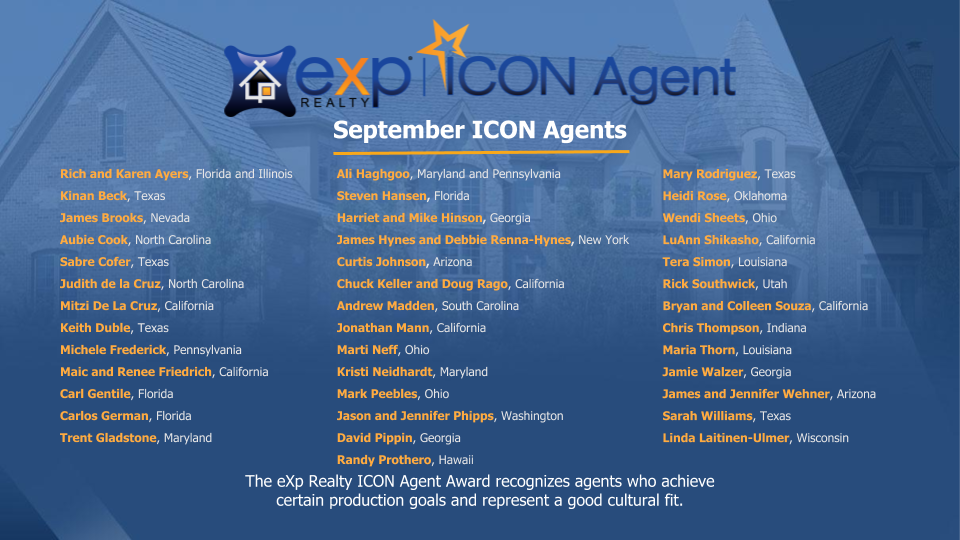 The eXp Realty ICON Agent Award recognizes agents who achieve certain production goals and represent a good cultural fit for the brokerage. At eXp Realty, our core values shape our culture, so we look at a number of factors such as how ICON agents make positive change in our company and local community.
eXp Realty ICON agents for September are as follows:
Rich and Karen Ayers, Florida and Illinois
Kinan Beck, Texas
James Brooks, Nevada
Sabre Cofer, Texas
Aubie Cook, North Carolina>
Judith de la Cruz, North Carolina
Mitzi De La Cruz, California
Keith Duble, Texas
Michele Frederick, Pennsylvania
Maic and Renee Friedrich, California
Carl Gentile, Florida
Carlos German, Florida
Trent Gladstone, Maryland
Ali Haghgoo, Maryland and Pennsylvania
Steven Hansen, Florida
Harriet and Mike Hinson, Georgia
James Hynes and Debbie Renna-Hynes, New York
Curtis Johnson, Arizona
Chuck Keller/ Doug Rago, California
Linda Laitinen-Ulmer, Wisconsin
Andrew Madden, South Carolina
Jonathan Mann, California
Marti Neff, Ohio
Kristi Neidhardt, Maryland
Mark Peebles, Ohio
Jason and Jennifer Phipps, Washington
David Pippin, Georgia
Randy Prothero, Hawaii
Mary Rodriguez, Texas
Heidi Rose, Oklahoma
Wendi Sheets, Ohio
LuAnn Shikasho, California
Tera Simon, Louisiana
Rick Southwick, Utah
Bryan and Colleen Souza, California
Chris Thompson, Indiana
Maria Thorn, Louisiana
Jamie Walzer, Georgia
James and Jennifer Wehner, Arizona
Sarah Williams, Texas
The eXp Realty ICON Agent Award provides each qualified ICON with up to $16,000 in publicly traded eXp World Holdings, Inc. common stock upon the achievement of certain production goals within an agent's anniversary year. The company's cap is presently set at $16,000. Through the program, ICONs effectively can earn up to their entire cap amount back in the form of stock. ICON agent qualification details are available on the ICON Agent Award page.