Oswego Community Recycling Event
Posted by Rich Ayers on Thursday, April 11, 2019 at 1:15 PM
By Rich Ayers / April 11, 2019
1 Comment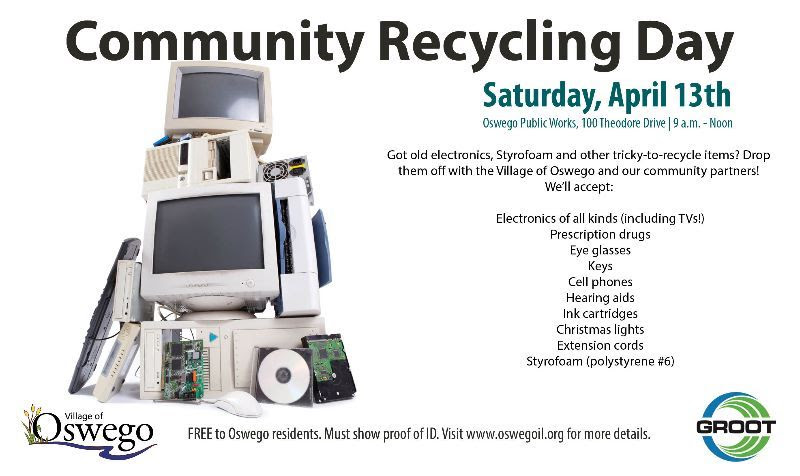 Do you have electronics, Styrofoam, prescription drugs, or other tricky-to-recycle items stockpiled in your house? Celebrate your dedication to the environment by recycling them with the Village of Oswego, for Oswego Community Recycling Day on Saturday, April 13, from 9 a.m. to noon.

Accepted Items
Spring clean your garage, basement, and even your junk drawer and give new life to the things cluttering your home. The Village of Oswego has coordinated with partners throughout the community, including Groot, Fox Metro, the Lions Club and Oswego Presbyterian, to accept the following items for reuse, repurposing, recycling, or safe disposal:
Electronics - including all kinds of televisions at no additional charge, monitors, printers, computers, keyboards & mice, fax machines, videocassette recorders, portable music players, video game consoles, small scale servers, scanners, digital converter boxes, cable receivers, satellite receivers and digital video disc recorders
Prescription drugs*
Eyeglasses
Keys
Cell phones
Hearing aids
Ink cartridges
Christmas lights
Extension cords
Styrofoam (polystyrene #6)**
Electronics recycling is open to Oswego residents only. You must present identification that proves your Oswego address, such as a current drivers license, to drop off electronics at this event.
*This year, they cannot accept EpiPens for recycling.
**For Styrofoam collection, please bag your Styrofoam into two separate bags, one for foam cups and food service containers, and second bag for packaging foam. Please rinse food containers and remove labels, tape and other packaging materials from your packaging foam. Check out
this article
for examples of what can be collected. Polystyrene must be #6 type to be collected. (Check for the recycling symbol with #6 stamped on it.)
More information
The Oswego Electronics Recycling Day will be held from 9 a.m. to noon, on Saturday, April 13, at the Oswego Public Works facility,
100 Theodore Drive, Oswego
. Enter from Plank Drive and be prepared to show ID, then follow volunteers' instructions to drop-off and pick-up stations.