eXp World Holdings is Trading on NASDAQ
Posted by Rich Ayers on Monday, May 21, 2018 at 8:15 AM
By Rich Ayers / May 21, 2018
Comment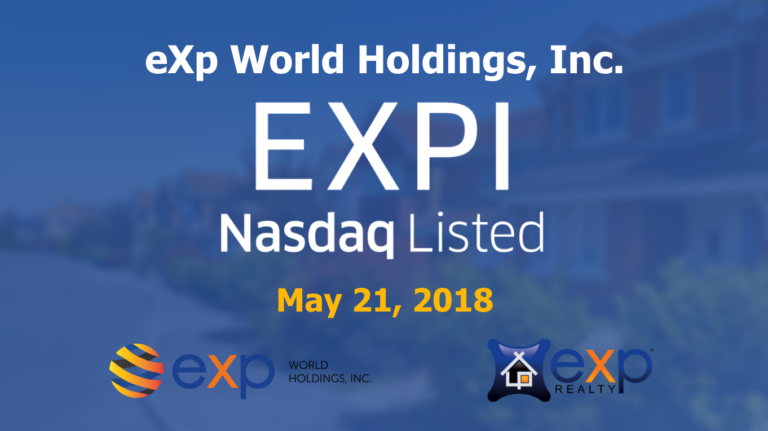 "Today marks a special day in the history of eXp Realty. Our move to Nasdaq is a continuation of almost nine years of iterating around the long-term value proposition for real estate professionals. We are proud of our ability to be able to deliver on our promise to our agents, brokers, staff and shareholders who have believed in our vision over the years," said eXp World Holdings CEO, Chairman and Founder Glenn Sanford.
This press release shall not constitute an offer to sell or the solicitation of an offer to buy, nor shall there be any sale of these securities in any state or jurisdiction in which such offer, solicitation or sale would be unlawful prior to registration or qualification under the securities laws of any such state or jurisdiction.
About eXp World Holdings
eXp World Holdings, Inc. (NASDAQ: EXPI) is the holding company for eXp Realty, LLC, the largest residential real estate brokerage by geography in North America. eXp Realty (exprealty.com) is changing the way that agents, brokers and consumers work together in an adaptive, sustainable environment. As the leading, national, cloud-based real estate brokerage, eXp Realty provides 24/7 access to collaborative tools, training and socialization for real estate brokers and agents through its virtual campus environment. It is one of the fastest growing real estate brokerage firms in North America with more than 11,000 agents in 49 U.S. states, the District of Columbia and the provinces of Alberta and Ontario, Canada. As a publicly traded company, eXp World Holdings, Inc. uniquely offers real estate professionals within its ranks opportunities to earn company stock for production and contributions to overall company growth.
For more information, please visit the company's website at www.eXpRealty.com.
Connect with eXp Realty and eXp World Holdings:
Media Relations Contact:
Cynthia Nowak
Director of marketing and communications, eXp Realty
360.419.5285 ext. 116
[email protected]
Investor Relations Contact:
Greg Falesnik
Managing director, MZ Group – MZ North America
949.385.6449
[email protected]