eXp Realty taps Keller Williams Realty vet to lead US growth
Posted by Rich Ayers on Thursday, December 6, 2018 at 8:40 AM
By Rich Ayers / December 6, 2018
Comment
BELLINGHAM, WASH. — Dec. 6, 2018 — eXp Realty, the largest residential real estate brokerage by geography in North America and a subsidiary of eXp World Holdings, Inc. (NASDAQ: EXPI), today announced that Dave Conord has joined as Senior Vice President of Growth.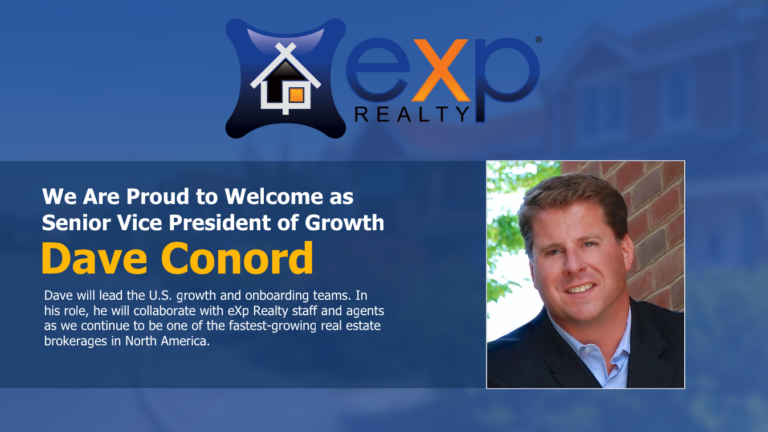 Dave will lead the U.S. growth and onboarding teams. In his role, he will collaborate with eXp Realty staff and agents as the company continues to be one of the fastest-growing real estate brokerages in North America.
Dave has more than 18 years of experience in the real estate industry. He was an owner/partner of multiple Keller Williams Realty market centers throughout the Mid-Atlantic and led one of the regions to No. 1 in the company for growth within three years. He also was one of the top recruiters at the company for nine years. At Long & Foster Companies, Dave developed professional and leadership training for sales managers and agents.
"We are fortunate to have Dave on our team. He brings a proven track record of scaling large brokerages and creating a phenomenal experience for agents. More importantly Dave was in the process of joining eXp Realty as an agent so he already gets how special eXp Realty is," said eXp World Holdings CEO, Chairman and Founder Glenn Sanford. "As we continue to obsess over the agent value proposition, I know Dave can't wait to support all of our agents and brokers in sharing the unique eXp Realty opportunity."
Dave holds a Bachelor of Arts in International Business from University of Maryland.
Want to see who else joined this rapidly growing brokerage?! Visit: https://www.ayersteam.com/join-exp-realty/see-who-joined-exp-realty/