eXp Realty Surpasses 10,000 Real Estate Agents Across North America
Posted by Rich Ayers on Wednesday, April 18, 2018 at 9:00 AM
By Rich Ayers / April 18, 2018
Comment
Doubles Agent Count in Less Than Seven Months
BELLINGHAM, WASH. — April 18, 2018 — eXp Realty, the largest residential real estate brokerage by geography in North America and a subsidiary of eXp World Holdings, Inc. (OTCQB: EXPI), today announced that the company surpassed 10,000 real estate agents across North America. This important company milestone represents a doubling of agent count in less than seven months. Since the beginning of the year the agent base of eXp Realty has grown by more than 54 percent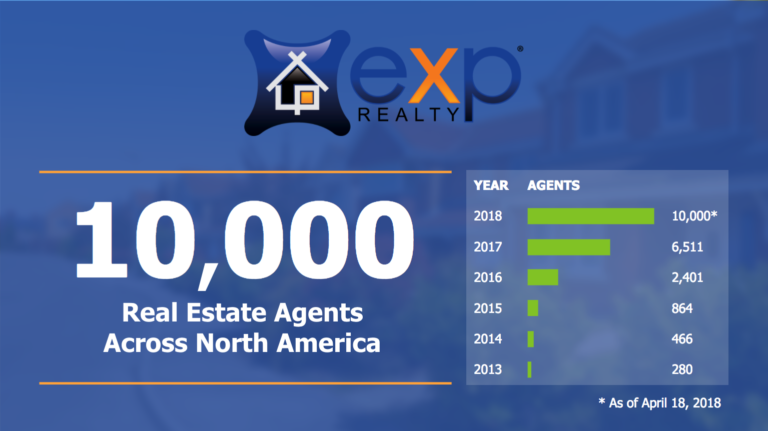 This comes on the heels of being honored as No. 7 for closed transactions in 2017 on the REAL Trends 500, which ranks the 500 largest brokers in the United States; and No. 8 for closed transactions in 2017 on RISMedia's Power Broker Top 500, which ranks the nation's top 500 residential real estate firms.
"When we started this journey, a few of us dreamed that someday we'd reach this level. It is exciting for me to say that today we have grown faster than we imagined and I am truly honored to be in business with more than 10,000 like-minded real estate agents and brokers who chose to build their future with eXp," said eXp World Holdings CEO, Chairman and Founder Glenn Sanford.
"Our culture of collaboration and shared ownership have allowed us to scale in ways that many of our bricks-and-mortar competitors can only dream of. In addition, the team we have assembled, especially during the last few years, has put us in a great position to be able to continue to iterate and grow. With the recent additions of Stacey Onnen to lead brokerage operations and Kimberly Ryan to grow our training and education platform as well as the continued development of our underlying technology framework, we feel confident about our ability to be agile at scale."
About eXp Realty
eXp Realty, LLC, the largest residential real estate brokerage by geography in North America, is a subsidiary of eXp World Holdings, Inc. (OTCQB: EXPI). eXp Realty (exprealty.com) is changing the way that agents, brokers and consumers work together in an adaptive, sustainable environment. It is an agent-designed and agent-owned company. As the leading, national, cloud-based real estate brokerage, eXp Realty provides 24/7 access to collaborative tools, training and socialization for real estate brokers and agents through its virtual campus environment. It is one of the fastest growing real estate brokerage firms in North America with more than 10,000 agents in 47 U.S. states, the District of Columbia and the provinces of Alberta and Ontario, Canada. As a publicly traded company, eXp World Holdings, Inc. uniquely offers real estate professionals within its ranks opportunities to earn company stock for production and contributions to overall company growth.
For more information, please visit the company's website at www.eXpRealty.com.
Connect with eXp Realty and eXp World Holdings:
Media Relations Contact:
Cynthia Nowak
Director of marketing and communications, eXp Realty
360.419.5285 ext. 116
[email protected]
Investor Relations Contact:
Greg Falesnik
Managing director, MZ Group – MZ North America
949-385-6449
[email protected]