eXp Realty Announces January 2019 ICON Agents
Posted by Rich Ayers on Friday, February 1, 2019 at 10:17 AM
By Rich Ayers / February 1, 2019
Comment
Honorees Recognized for Achieving High Production and Cultural Goals
BELLINGHAM, WASH. —Jan. 31, 2018 — eXp Realty, the first, cloud-based real estate brokerage and a subsidiary of eXp World Holdings, Inc. (NASDAQ: EXPI), today announced 38 agents were honored as eXp Realty ICON agents for January 2019.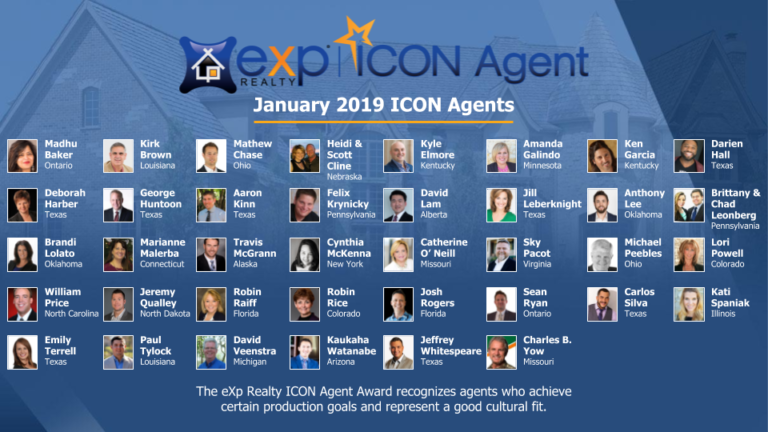 The eXp Realty ICON Agent Award recognizes agents who achieve certain production goals and represent a good cultural fit for the brokerage. At eXp Realty, our core values shape our culture, so we look at a number of factors such as how ICON agents make positive change in our company and their local communities when awarding this honor.
eXp Realty ICON agents for January 2019 are as follows:
Madhu Baker, Ontario
Kirk Brown, Louisiana
Mathew Chase, Ohio
Heidi and Scott Cline, Nebraska
Kyle Elmore, Kentucky
Amanda Galindo, Minnesota
Ken Garcia, Kentucky
Darien Hall, Texas
Deborah Harber, Texas
George Huntoon, Texas
Aaron Kinn, Texas
Felix Krynicky, Pennsylvania
David Lam, Alberta
Jill Leberknight, Texas
Anthony Lee, Oklahoma
Brittany and Chad Leonberg, Pennsylvania
Brandi Lolato, Oklahoma
Marianne Malerba, Connecticut
Travis McGrann, Alaska
Cynthia McKenna, New York
Catherine O'Neill, Missouri
Sky Pacot, Virginia
Michael Peebles, Ohio
Lori Powell, Colorado
William Price, North Carolina
Jeremy Qualley, North Dakota
Robin Raiff, Florida
Robin Rice, Colorado
Josh Rogers, Florida
Sean Ryan, Ontario
Carlos Silva, Texas
Kati Spaniak, Illinois
Emily Terrell, Texas
Paul Tylock, Louisiana
David Veenstra, Michigan
Kaukaha Watanabe, Arizona
Jeffrey Whitespeare, Texas
Charles B. Yow, Missouri
The eXp Realty ICON Agent Award provides each qualified ICON with up to $16,000 in publicly traded eXp World Holdings, Inc. common stock upon the achievement of certain production goals within an agent's anniversary year. The company's cap is presently set at $16,000. Through the program, ICONs effectively can earn up to their entire cap amount back in the form of stock. ICON agent qualification details are available on the ICON Agent Award page.